So if you have not yet heard about the 3/50 project...here are the very kool details..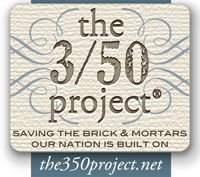 Hope you clicked on the link so you can learn about this great grass-roots project that Red Pineapple Supports...As a brick and mortar store...one of YOUR favorites, we know it takes YOU to keep US in business!!
Cheers!

And thank you for keeping a Girls Dream of a pretty little store filled with all her favorite things ALIVE!